Uncertainty / Gentleness / Cultural Forces

– Limited Edition Book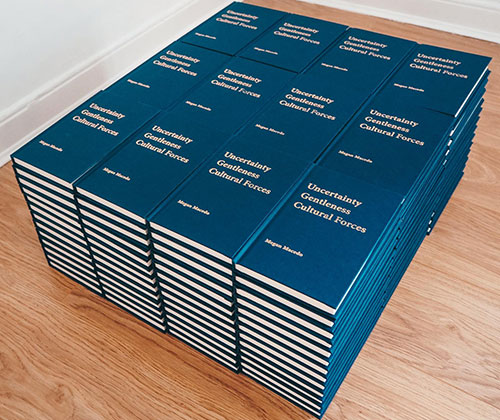 I've been threatening to write a book for a long time. I put the idea on hold for the past few years because I didn't want to do it just for the sake of it and I hadn't figured out what I wanted to say that felt worth being put into a book.
I still haven't quite figured that out yet but I do have the urge to put some of my writing into physical form. I am very much a lover of physical media so it feels like time I bound some of my writing in some form.
So I decided to create a book that's a compilation of three of my online writing series from the past few years. It's called, Uncertainty / Gentleness / Cultural Forces and has been a labour of love.
Uncertainty / Gentleness / Cultural Forces is a compilation of three online writing series I did from 2016 to 2019. The first series, Uncertainty, was written in 2016 and explores our relationship with uncertainty and how it plays out in our work.
Gentleness was written in 2018 and is a conversation about what it means to be gentle with ourselves and why that's an important question to ask when it comes to our professional lives.
The third series, Cultural Forces, was written in 2019 to explore ideas about how our culture shapes us and the work we are uniquely placed to do. It sheds some light on how the family and culture that formed us has led us to hold the questions we hold and do the work we do.
As well as the series themselves, the book also contains some newly written material that offers context for each of the series and where I was at in my personal and professional life at the time they were written. Looking back, it's easier for me to see what my deeper motivations were in pursuing questions around these particular topics.
Our real work is always personal and I find it helpful to understand the personal connections in other people's work, so I thought that would be an interesting layer to add to the book.
Pol and I took time to think through the concept and physical form of the book. I worked with a wonderful copy editor, Robin Black, to polish the text whilst staying true to what it originally was. And Joe Barwise, the Derry artist who creates all of our artwork, worked his magic to make it look beautiful.
Of all my harebrained schemes, this has been one of my favourites. We're doing a limited run of the first edition of the book and after many many months of getting everything just so, it's now ready to ship.
When you place your order Pol will lovingly package your limited edition, numbered book and send it from Derry to your corner of the world. We're finding the postal systems near and far to be slower than usual during the pandemic so thank you in advance for your patience.
Order your copy of Uncertainty / Gentleness / Cultural Forces here today!
---
SOLD OUT!
---